Mila Rose Hair Care
Regular price
$28.99 USD
Sale price
$19.99 USD
Unit price
per
Sale
Sold out
Brand-New Look with the Same Effective Formula
Our Deep Conditioner Shine Treatment is the perfect solution for all hair types. It deeply conditions, restores, moisturizes and eliminates dryness, frizz, and dullness to give hair an ultra-soft and radiant shine. Our unique formula for all hair types promises results you can trust.
It's All About The Ingredients
The Mila Rose Hair Care stands for all organic ingredients and no harsh chemicals that can damage the hair and scalp.  
Aloe Vera: Has proteolytic enzymes that are known for repairing dead skin cells found on the scalp. It is a conditioner that keeps your hair smooth and shiny. 
Mango Butter: Effective scalp conditioner that strengthens the hair and keeps the hair moisturized preventing it from drying and the hair feeling lush and soft. 
Pro-Vitamin B5:  Known for keeping the hair moisturized by penetrating the hair and the skin and depositing nourishing moisture deep down into the hair's cortex.
Coconut Oil: Contains vitamins and fatty acids that help build up hair from the follicles and nourish the scalp. It helps your hair grow longer, faster, and thicker. One of the best coconut conditioners for wavy- kinky hair.
Ingredients: Aqua (Distilled Water), Aloe Barbadensis (Aloe Vera) Juice, Cetyl Alcohol, Cetrimonium Chloride, Stearyl Alcohol, Mango Butter*, Cocos Nucifera (Coconut) Oil*, Olea Europaea (Olive) Oil, Panthenol (Pro Vitamin B5), Hydrolyzed Keratin Protein, Rosa Damascena (Rose) Oil*, Pelargonium Graveolens (Geranium) Oil*, Fragrance, Phenoxyethanol, Ethylhexylglycerin 
Free of: Phthalates, PEGs, Dyes, Artificial Fragrance, Parabens, Sulfates, Silicone, Mineral Oil
Share
View full details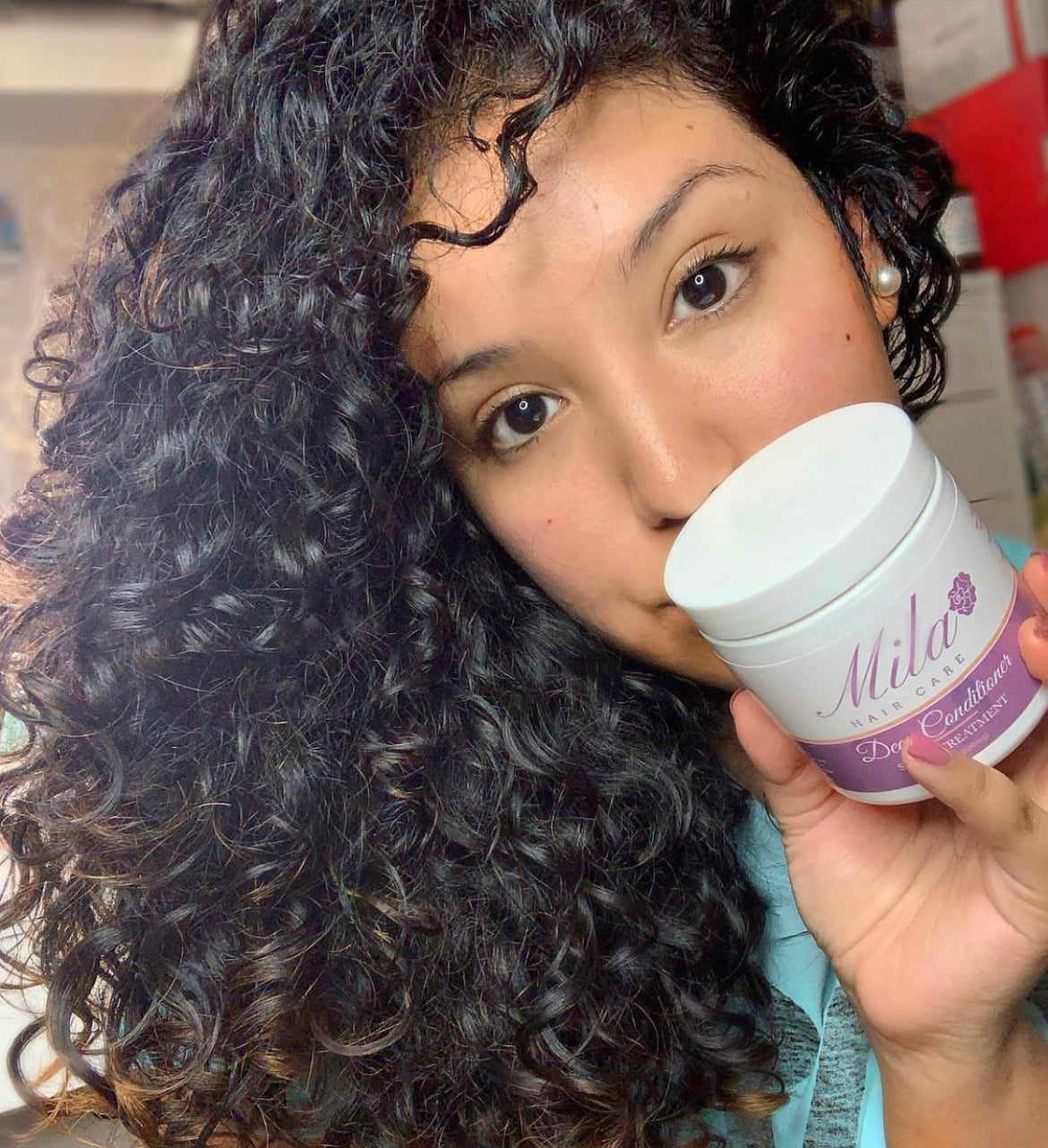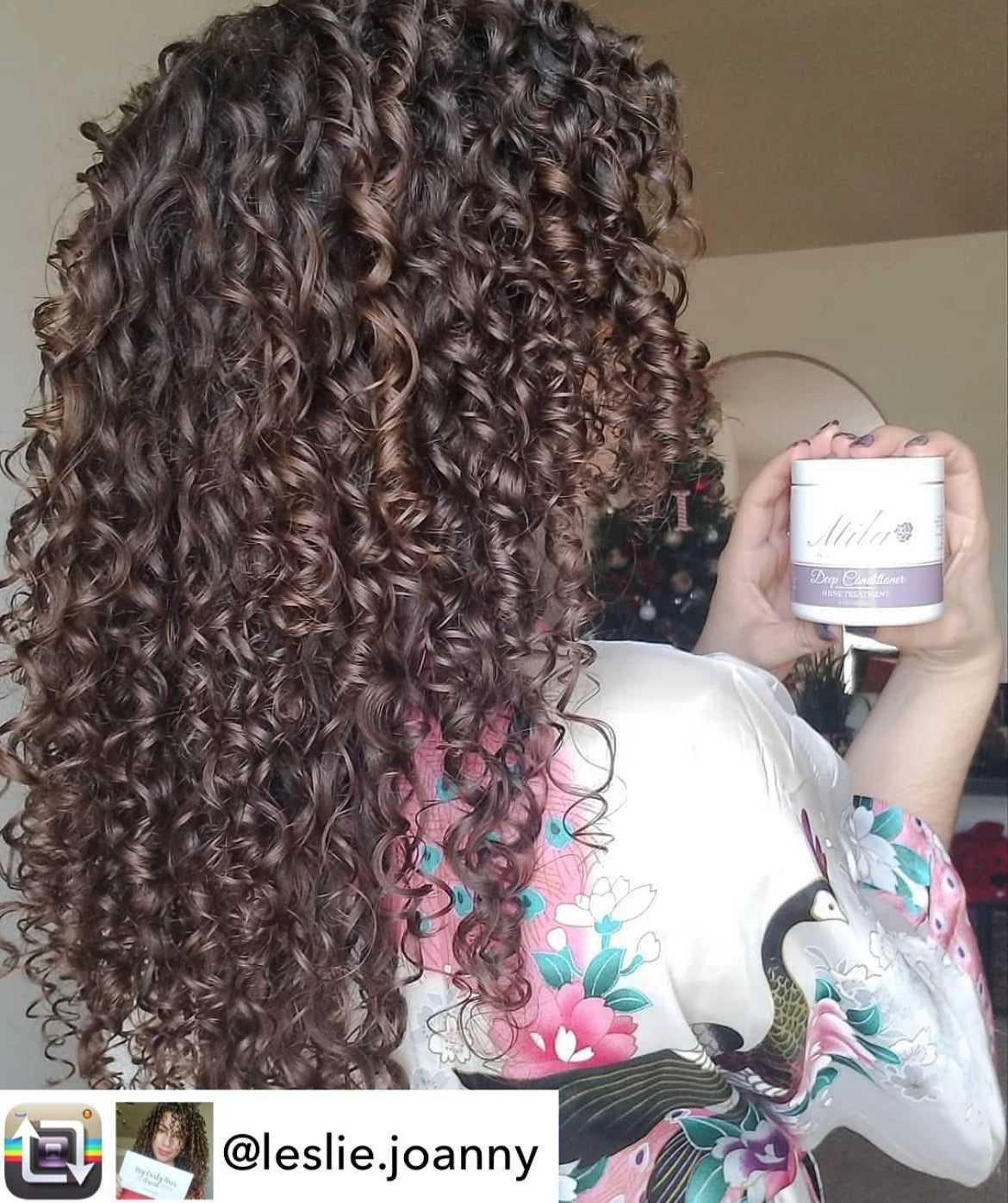 Favorite product!
This product is one of my favorite deep conditioners for my curly hair daughter! It makes the detangling process so much easier & adds shine like never before! I recommend all of milarose products to anybody that has curly hair. Best product hands down. Try it, you won't regret it!
Recommend
I usually purchase just the shampoo and conditioner and decided to one day try out the deep conditioner. These products when used together is amazing. My hair feels soft and the deep conditioner added shine and made my hair look and feel great. It has a coconut soft smell and I love it. I would definitely recommend the deep conditioner even if purchased separately.
Wow
My hair felt really soft and had a shine to it. You can tell that it moisturized my hair. I have damaged hair from dying my hair. This product helped my ends not look so damaged. I have straight hair too. I know this company advertises curly hair, but it definitely worked on my straight hair.
The name says it all
Best deep conditioner. I have used Curl Smiths brand before finding this brand. And I like this one much better.
Best stuff ever
I tried the deep conditioner for the first time on my Curly haired toddler and I have to say I was shocked! We only left it in for 15 minutes and she went to bed and the next day her curls were so bouncy and in tact. I couldn't believe my eyes. I waited about 4 days before I washed her hair again and the shine, smell and life in her hair was as if I washed it the day before! Love this product